David Gent
: 01934 862348 or 07773 537626 <
david@rectory.org.uk
>
Andrew Hemming:
07584 124198 <
andrewmhemming@btinternet.com
>
Sue Hoskins:
07771 579543 <
sue@rectory.org.uk
>
The Church Office,
Sarah works Tuesday, Wednesday and Thursday mornings, 9am-1pm. At other times, messages can be left on
01934 861294, or at church.office@rectory.org.uk.
Benefice office
, The Triangle, Wrington, UK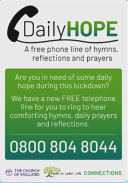 Please pray for:
Unwell/Recovering within the Benefice:
Helen Ayres, John Bennett, Robin Brooks, Wendy Davey, Dave Palmer,
Valerie Tincknell, Mike Wool, Ros Young, Joseph (14)
Outside the Benefice:
Ken Bailey, Nick Ball, Harry Banks, Billy Densham, Sheila Doleman, Phoebe Dowling, Tom Ekin,
Tracey Gray, Alan Justice, Shirley Kite, John Millman, Hannah Montagu, David Parkes, Jean Pitt, Janet Richards, Henry Schofield,
Mike Wilkinson, Peter Worle, Ann, Sara, Sarah,
Those who have recently died:
Nancy Broad, Douglas House,
Years' Mind:
Neal Crowe, Mary Cooper, Tom Hibberd, John Hudson, Linda Wiles, Pat Barnes, Michael Carey, David Judd,
Meg Buxton, Debbie Johnston, Sandra Bevan, Arthur Weall, Iris Moss, Ken Broad, Sheila Margerrison, Gillian Buxton,
Jenny Tarr
Intercessions:
for wisdom for our public health officials as they investigate the new omicron variant
for an end to the violence and a spirit of tolerance in Afghanistan
for a fostering of self-responsibility as Covid cases increase once again
our NHS - particularly those areas feeling overloaded
for a fair distribution of the coronavirus vaccine across the world
those who are sick or ill as a result of the coronavirus and those who have been bereaved

Isaiah 45:1-8
'I hold your right hand and will help you defeat nations and take away other kings' power.'
God has chosen Cyrus to free Israel from their enemies. He promises to hold the king's hand, to help him defeat
nations and take away the power of other kings – to bring him and the nation victory over their oppressors. A
wonderful promise, but what does it mean for us today? What are the 'kings' of our lives? What power do they
hold over us?
Maybe it's fear, ill health, lack of confidence, anxieties, concerns over the future, worries for the state of the
world, the economy, the climate, Covid. All these can gain a hold in our lives and can rule over us, when God
himself wants to be the only one in control of our lives. God promises to go before Cyrus, to 'make the
mountains flat' and 'break down the bronze gates of the city'. God promises to go before us now, to prepare us
for the work he has called us do. To help us rise above our worries, fears, concerns, to be the people of God He
made us to be. What we believe impossible, He can make possible.
He calls Israel, and by extension us, his 'chosen people': people He will honour, people He will make strong,
people who will display His love to the world. Wonderful promises all, but even better is that the almighty God
'calls us by our name'. He knows us intimately just as He knows Isaiah and Cyrus. He knows our capabilities
and has promised to be with us in the work He has called us to do.
He 'showers victories upon us', victory over fear, problems, pains, insecurities that try to prevent us from
following Him. Why? So that through our obedience to His calling the whole earth will receive Him, 'salvation will
grow' across the face of the earth. His light will shine in the darkness of our own lives enabling His love to shine
through us and when that happens not only in individuals, but also in nations His kingdom will come in the earth
as it is in heaven.
Dear Father,
Please hold our hands as we live our lives for you and give us victory over our worries, concerns, fears,
whether they be for the world, people we know and love or even ourselves. Help us to leave them all in the
loving hands of our God, the one who makes difficult places easy as we follow you.
Almighty God who even knows each one of us personally, help us to become daily, more like our loving Father,
spreading your light throughout our world. In Jesus' name. Amen

We are keeping our Covid precautions constantly under review given the recent increase in Covid cases in all the
churches. We will be looking to ensure increased ventilation, social distancing (when possible) and use of masks
throughout services. Please also leave as soon as possible after services end.
We would also encourage you to take a lateral flow test before coming to church. We have decided to cancel the
Christmas Eve Crib service at All Saints and to withdraw the offer of mince pies after the All Saints' Carol Service on
Sunday

.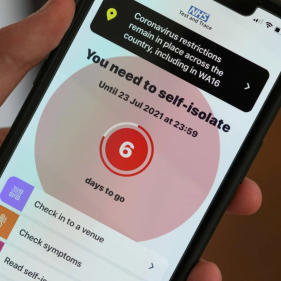 Unfortunately David, our Rector, has just tested positive for Covid. This means
that he will be in isolation at home until Christmas Eve. If you have been in close
contact with David over the last few days, please ensure that you take lateral
flow tests on a regular basis.
David is feeling well (just the odd sneeze) and will be working from home
normally over this period covering 'back office' issues while Andrew and Sue
take on David's 'in person' duties. However for your protection, please don't go
to the Rectory at this time.
Janet's PCR test came back negative - a particular relief as her daughter's
wedding is due to take place on Saturday

.

Wednesday 22nd December
7.00 p.m. Carols in the Churchill Inn
Thursday 23rd December
7.00 p.m. Carols in the Churchill Inn
24th December: Christmas Eve
8.30 a.m. Holy Communion at All Saints'
4.00 p.m. Crib Service at All Saints - cancelled
4.00 p.m. Outdoor Crib Service outside Christchurch, Redhill
10.00 p.m. First Communion of Christmas at All Saints'
11.30 p.m. Midnight Communion at Holy Trinity, Burrington
11.30 p.m. Midnight Communion at Christchurch, Redhill
25th December: Christmas Day
9.30 a.m. Christmas Family Communion at All Saints'
9.30 a.m. Christmas Family Service at Holy Trinity, Burrington
9.30 a.m. Christmas Service at St Mary's Langford
10.00 a.m. Christmas Communion at St Michael's, Butcombe
26th December: Feast of St Stephen (Boxing Day)
10.00 a.m. Benefice Communion at All Saints'