From Jennifer Barrio, 10th February, 2014
I am attaching a piece from the family history my brother, David Hesse, wrote a few years ago as part of a family tree. I am so
happy that there might be a few people who might remember my grandfather's name.
I am attaching the only two photos I can find along with the written piece. It is probably 25 years since my husband and I visited
Wrington on a trip to England and I had a very nostalgic tour around the village, up Chapel Hill, my memory tells me to find my
great-aunt's house (she was an old horror and frightened the whole family!) and into the church. Memory is a funny thing,
triggered by odd flashes, in my case impending surgery and old age!

Email to the Rector, the Revd Nicholas Maddock, from Jennifer Barrio, née Hesse, 2nd February, 2014
"I am writing from my home on Salt Spring Island, British Columbia, Canada and have just spent the morning going over old
family documents. I looked up Wrington Church where I spent many Sundays as a small child during the war, while my
grandfather Major John Hesse was up in the belfry with the church ringers. I have memories of that spiral stairway to the
tower, terrifying to a small child!
I had a good look at the link to the bell ringers, it brought so many wonderful memories flooding back, mostly my enduring
love for bells. Unfortunately, western Canada has few bell towers, one in our Capital City of Victoria and another at the RC
Cathedral in Vancouver.
This sentimental note is from a somewhat older person reliving nice memories in the middle of the war when my grandfather
gave my mother, brother and me a home while our roof was put to rights after a stray bomb in Haselmere, Surrey.
With very best wishes. In peace, Jennifer Barrio (née Hesse)."
The Editor contacted Jennifer Barrio and asked for any further family information she had about Major Hesse.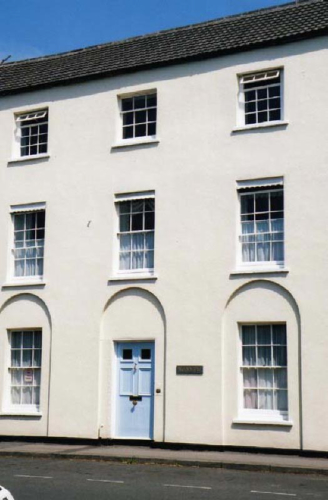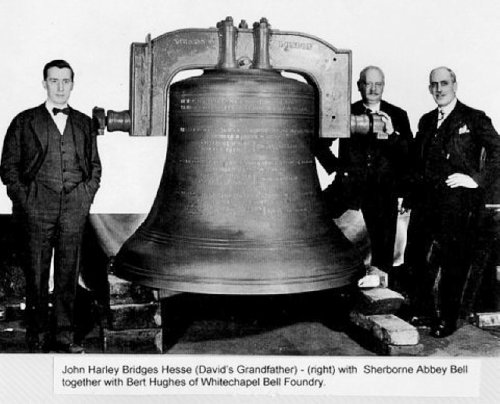 Philip Kinsman, the current Steeple Keeper at All Saints', is working on the list of
ringers who went on the last ringers' outing before the outbreak of the First World
War. Among them was Major Hesse.
The photograph of the Hesse house 'Woodview'. Trevor Wedlake remembers
Major & Mrs Hesse living in Broad Street - Ed.
Shortened and edited quote from the history my brother David Hesse wrote as part of our family history:
John Harley Bridges Hesse 1873–1946, educated at Sherborne School and Bristol University. He became a Mechanical Engineer
and a partner in a firm of Marine and Motor Engineers, manufacturers of the Hesse patent reversing gear for motor boats.
He then worked as Works Manager for J.I. Thorneycroft & Co. London, a shipbuilding firm based in Chiswick. During the 1914-18
war, our grandfather became a Major, RASC and served in France.
Major Hesse was also a master campanologist and a renowned expert on church bells and steel bell frames in church towers. He
acted in an advisory capacity on church bells in over 64 bell towers from Wrington to Westminster Abbey between 1873-1946. He
wrote chapter VI in the book "

Bell Towers and Bell Hanging – An Appeal to Architects

" entitled "

Bell-frames and the Architect"

and
was a close friend and worked with Bert Hughes of the Whitechapel Bell Foundry.
He was a member of the

Ancient Society of College Youths

– a strange name but it is the elite society of bellringers – and he rang
many peals of bells around the country, some of these involving over 5,000 changes and peals such as Stedman Cinques, Stedman
Caters and Forward Royals.
He made large scale steam engines which ran on a track round his garden in Haslemere as well as smaller scale models, bells and
frames. I remember his workshop on the top floor of his Wrington house, all a mystery to a small child. He lived at 'Woodview' on
the main road in Wrington, not far from the church and the bells he loved.
There is a memorial in the ringing chamber of Wrington Chuch which reads "To the memory of JOHN HARLEY BRIDGES HESSE a
lover of bells and ringers who died at Wrington on 18 October 1946 aged 74 years. He was devoted to this Tower and its bells were
his constant care. It was largely through his inspiration that in 1911 the old six bells were increased to the present peal of ten".
He was buried under the yew tree in the shadow of the belltower.
Grandfather's grandfather Frederick Legrew Hesse was Rector of Rowberrow, Somerset and his uncle James was Rector at
Chiddingfold and Haslemere, Surrey.