David Gent
: 01934 862348 or 07773 537626 <
david@rectory.org.uk
>
Andrew Hemming:
07584 124198 <
andrewmhemming@btinternet.com
>
Sue Hoskins:
07771 579543 <
sue@rectory.org.uk
>
The Church Office,
Sarah works Tuesday, Wednesday and Thursday mornings, 9am-1pm. At other times, messages can be left on
01934 861294, or at church.office@rectory.org.uk.
Benefice office
, The Triangle, Wrington, UK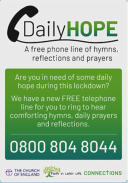 Please pray for:
Unwell/Recovering within the Benefice:
Helen Ayres, John Bennett, Robin Brooks, Wendy Davey, John Millman, Dave Palmer,
Trevor Parnham. Beryl Petty, Valerie Tincknell, Mike Wool, Ros Young, Joseph (14)
Outside the Benefice:
Ken Bailey & family, Nick Ball, Harry Banks, Sheila Doleman, Phoebe Dowling, Tom Ekin, Tracey Gray,
Shirley Kite, Hannah Montagu, David Parkes, Jean Pitt, Janet Richards, Henry Schofield, Peter Worle, Ann, Sara, Sarah
Recently died:
Teresa Kellow, Bob May, Howard PetherickYears' Mind: Sally-Ann Hutchings, Dennis Gibbs, Edna Owens,
Raymond Hunt, Anne Vaughan, Diana Higgins, Catherine Cox,

the Fallen of the two World Wars
Intercessions:
for a brave and decisive outcome from the COP26 Conference, that will make a real difference to the futures of our
children and grandchildren
for an end to the violence and a spirit of tolerance in Afghanistan
a fostering of self-responsibility as legally-binding Covid cases increase once againour NHS - particularly for those staff exhausted
by the demands of the last 18 months
a fair distribution of the coronavirus vaccine across the world
those who are sick or ill as a result of the coronavirus and those who have been bereaved

Sunday 21st November 3.30 p.m. - 4.30 p.m.
Sunday afternoon concert
A SELECTION OF SACRED AND SECULAR MUSIC FROM HANDEL TO BILLY JOEL followed by tea and cake!!
These FREE concerts celebrate our return to live performance of music we have enjoyed during our Covid restricted
and Zoom rehearsals, and the programmes will be largely the same. Entry will be strictly "Ticket Only", and limited to
75 tickets. Tickets are available through the link below or any choir member.
<https://www.ticketsource.co.uk/trinity-singers>
COVID PRECAUTIONS. We encourage you to wear a mask when not seated, to take a Lateral Flow Test within 36
hours of the event, and not to attend if you, or someone you have contact with, has Covid symptoms. To achieve safe
distancing alternate rows of seats will be used and you are asked to keep at least one space between your party and
any other person. Thank you

.
Wednesday 17th November
9.00 am Zoom Morning Prayer <https://zoom.us/j/7521073898>
9.30am Jumblies at St Mary's Langford
Thursday 18th November
9.00 am Morning Prayer at Christ Church
5.30 pm Evening Prayer at St Michael's Butcombe
Friday 19th November
8:30am Holy Communion in the Round at All Saints', Wrington
3.30 p.m. Thanksgiving service for Violet Frappell at Weston Crematorium
Saturday 20th November
12.00 noon Wedding at St Mary's Langford
Sunday 21st November
8.00 a.m. Holy Communion at All Saints' Wrington
9.30 am Family Service at St Mary's, Langford
9.30 am Holy Communion at All Saints, Wrington
11.00 am BCP Matins at Holy Trinity, Burrington
11.00 am Parish Communion at Christ Church, Redhill
11.15 am Parish Communion at St Michael's, Butcombe
6.30 p.m. Said Evening Prayer at All Saints' Wrington
Out of all the stories which show Jesus to be the Servant-King, my favourite has got to be hidden away in Luke
12: 35-38. It's the well-known parable to the slaves who are dressed for action with lamps lit. But then there
comes a typical Lucan twist: "Blessed are those slaves whom the master finds alert when he comes; truly I tell
you, he will fasten his belt and have them sit down to eat, and he [the master] will come and serve them [the
slaves]."
For me, this is a radical change in our expectations – so surprising that for years I've gone with that I thought I
heard rather than the text itself. Like many of the parables in Luke, the master depicts the kind of King Jesus is.
Here we get a real insight. Jesus is the kind of King who, rather than collapsing into bed, or sitting down
enjoying a meal, he serves us instead.
What a revelation! And what a King!
Lord Jesus Christ, we thank you that you come to us as our servant King. Help us to remember that you are
the Master who serves us far more capably than we are able to serve you. Amen.